For many brides, a wedding is a culmination of a year or more of planning. You have spent countless hours scrutinizing every detail of your big day to ensure perfection. Whether you had an unlimited budget or chose to go the DIY route, your nuptials can help inspire other brides in search of their own beautiful wedding day.
If you are looking to have your wedding featured in a wedding blog, it can be overwhelming to know where to start. The wedding experts at McElroy Films compiled a list of tips to help brides increase their chances of success:
1) Submit Inspiring Photos and Video
Pick and choose the images to submit carefully. Most wedding websites and blogs are looking for magazine style photos. Photographs should highlight the most memorable parts of the day and show off all of the details that brides take time to create for their wedding day. You can look at past features to see the style of photos that the publication features to get an idea of the types of photos to submit. You can also submit your wedding video to increase your chances of being included.
2) Share a Great Love Story
When looking for real weddings to feature, many editors are also looking for an inspiring love story. Rather than writing, "the bride and groom met in college and got married a few years later", brides should share details of their love story. For example, "Sarah and Nathan met in a history class in college and Sarah instantly thought he was charming and would be perfect fit for her best friend. So she set them up on a blind date. When her friend came down with the flu and couldn't make it, Sarah and Nathan ended up hanging out instead. She had no idea that would be the beginning of epic love story."
3) Follow the Guidelines
Whether a bride is looking to submit her weddings to a magazine like The Knot or a wedding website like Style Me Pretty, there are guidelines for submission. Some require images to be a certain size, others ask for specific credits for vendors. For the best chance of being included, brides should follow directions for submissions carefully. Even if an editor loves the wedding images, if they have to track down information, they may move to the next submission.
4) Offer Exclusivity
Nearly all wedding magazines and websites are looking to feature real weddings that are exclusive to their publication. Brides should do research to see what publication will be the best fit, and start there. If their wedding is not chosen, then they can submit it for other publications.
5) Be Kind.
Editors for leading wedding publications get hundreds of submissions each month. They carefully go through them to find the ones that fit their publication and current needs. Unfortunately, they can't include every submission, so it is important that brides are gracious when dealing with rejections. Sometimes weddings aren't a good fit at the time because of the season or current trends, but editors may be able to use it in the future and would be more likely to want to work with a kind bride.
Here's a few blogs if you're ready to try:
Green Wedding Shoes (http://greenweddingshoes.com)
StyleMePretty (http://www.stylemepretty.com)
Ruffled (http://ruffledblog.com)
Brides (http://www.brides.com)
100 Layer Cake (http://www.100layercake.com/blog/)
Wedding Chicks (http://www.weddingchicks.com)
A wedding is one of the events in our lives that is still steeped in tradition. From the music to the dress, many brides follow time-old traditions when planning their big day.
Here are 5 modern traditions gaining popularity:
1. Trash the Dress
Modern brides are getting more mileage out of their wedding dress with trash the dress photos. Many photographers capture these moments in water, taking photos under towering waterfalls or on sandy beaches. These days, brides are opting for paint, or even mud, to get these one-of-a-kind glamorous photos in their wedding dress.
2. Wedding Videos
Long gone are the days where Uncle Mike stands in the back of the church recording couple's wedding ceremony with a camcorder. Many couples are opting for professional wedding videos to document the cherished moments of their day. Still photography is important, but a wedding video allows couples to relive their wedding.
3. Ditching the Send-Off
Guests throwing rice at the happy couple as they head off for an exotic honeymoon destination was once a time-honored wedding tradition. Now, the roles are reversing, modern brides and grooms are choosing to close down the party and make sure their guests get home safely.
4. Father Daughter Dances
Many brides still have the traditional father daughter dance at their receptions. Some are choosing to dance with other influential members of their lives, as well. Many brides are choosing to honor their mothers with mother daughter dances at their weddings.
5. Seeing Each Other Before the Wedding
Not seeing each other before the wedding has been a long-standing wedding tradition. But having the time to capture beautiful wedding photos after the wedding can be challenging. Instead, people are opting for first-look photos, capturing the tender moment when couples see each other for the first time.

Tara & Michael had an spectacular wedding at the beautiful Wequassett resort on Cape Cod. The Waquassett is one of the most romantic, sophisticated and memorable settings in New England. The couple exchanged their vows on a beautiful seaside lawn, surrounded by lush flowergardens with a backdrop of the pulchritudinous Pleasant Bay. We sent out three videographers to document the timeless event.
The Wequassett Resort: Tara & Michael from McElroy Weddings on Vimeo.
Jim & Janise's wedding at the Lake View Pavilion was absolutely amazing. The Lake View Pavilion provides aquaint and beautiful outdoor setting for a ceremony and reception, which harbors a lakeside backdrop and cobblestone gazebo. The Grand Ballroom is very luxurious, fabric-draped cathedral ceilings, with an incredulous view off of a balcony overlooking the lake. This wedding is a perfect make for a magnificent affair steeped in elegance and romance. The unmatched beauty of Lake View Pavilion will take your breath away. Enjoy this wedding trailer and see for yourself!!
Now that the dust has settled from a year of filming and editing over 90 great McElroy Weddings, our staff agreed on ten trailers that stood out for them personally, or visually Here are our picks for the best trailers of 2011, as described by the editors (in no particular order):
1. Ariel & Tyler – Edited by Kristina: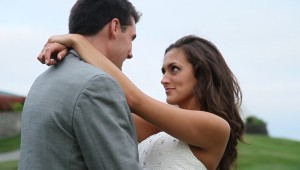 Ariel and Tyler chose "Kiss the Girl" by Colbie Caillat for their trailer. Everyone knows this classic song from Disney's The Little Mermaid. It was an appropriate choice for "Ariel" and  gave the video a personal feel. I purposely chose clips of the bride and groom kissing to match the "kiss the girl" part of the lyrics. It was also fun to edit because of the stunning footage that was captured during their formals. The videographers used the slider on the golf course to film different shots such as the couple walking hand and hand and the groom dipping his bride.
2. Gina & Mike – Edited by Kristina:
Even though Gina and Mike got married on a cloudy/foggy day, the wedding itself was lively and upbeat. I liked how they chose the song "Walking on Sunshine" by Katrina and the Waves for their trailer because it fit the couple well. From preceremony preparations to the reception, the bridal party never stopped having a good time. The song choice was also appropriate because of their beach theme whether it was the bride's shoes or the table décor at the reception.
3. Melissa & Reese – Edited by Kristina: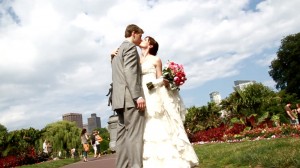 Melissa and Reese had their wedding reception at the Boston Public Library, but before they did, they took their formals all over the Boston Commons. They lucked out with a gorgeous day for their wedding. They took their formals in the public gardens, by the Swan Boats, and even on the carousel. This alone was cool to see, but what really made me excited were the vibrant colors. Between the bride's hot pink heels and umbrella, the colors were fun to experiment with. There were certain shots I could isolate colors in particular and desaturate everything else.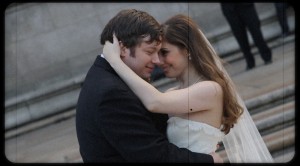 4. Jessica & Micheal – Edited by Evan:
Jessica and Michael's  choice of "Strangers" by The Kinks reminded me of the movie from whence it came, Darjeeling Limited.  With such a unique song, a unique couple, and a unique setting (The Boston Public Library), I was able to express myself, and my style, making great use of the film filter and long pacing.
5. Melissa & Tyler – Edited by Kristina: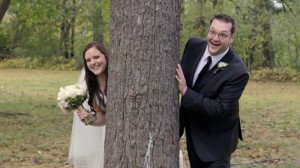 Every once in awhile I'll stumble upon a song that no one has chosen before for their wedding. Melissa and Tyler chose the song "Strawberry Swing" by Coldplay. Coldplay is one of my favorite bands, so I was stoked to edit this trailer. There is one part of the song that repeats several times: "Now the sky could be blue, I don't mind, without you it's a waste of time." During this part of the song, I would intersperse shots of the scenery with footage of the couple. Not only was it cool to edit to the song, but also it showed the strong connection between the bride and the groom.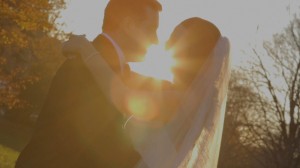 6. Leah & Anthony – Edited by Mike:
Leah and Anthony's trailer was enjoyable to piece together because the song is current, and no one had chosen it before. It's whimsical, yet romantic. Also, the couple took a lot of their formals with the sun setting in the background. It was something unique to add throughout the trailer of the sun bursting through the couple kissing. What I like is that you can tell how much the couple loves one another in their footage; the groom actually tears up when he sees his bride walk down the aisle for the first time. And even though their vows were standard affair, they spoke them very emotionally.
7. Keri & Ryan – Edited by Kristina: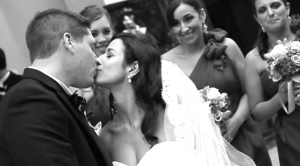 Keri and Ryan's trailer was another example of how choosing a unique song can be exciting to edit. They chose "Sweet Disposition" by the Temper Trap. Not only do I love this song, but it is played in one of my favorite movies, 500 Days of Summer. Drawing inspiration from the movie, I chose shots of Boston to begin the trailer because in the movie, the song is played as the couple explores the city. Similar to Melissa and Tyler's trailer, I tried to edit to the lyrics as much as possible. One section that repeats is "A moment, a love, a dream, a laugh, a kiss, a cry, our rights, our wrongs." During this part of the trailer, I chose footage of the couple executing these different actions.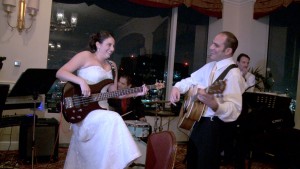 8. Andrea & Alexander – Edited by Evan:
I don't often see a couple performing at their own wedding together, so it was a great surprise to see both Andrea and Alexander are musically inclined and chose to perform "You're My Best Friend" by Queen at their reception. Throughout the trailer, I was able to create the illusion of Andrea and Alexander playing along. I strive to create a music video feel in all of my trailers, but this one is made legit.
9. Sweta & Kunal – Edited by Evan: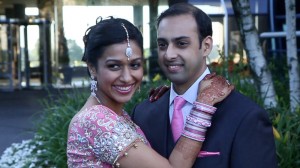 Sweta and Kunal also chose the song "Sweet Disposition" by The Temper Trap for their wedding trailer. You can see how distinctly different Kristina and I are in our approach by comparing the two trailers. I, too, love 500 Days of Summer, but I channeled my inner Conversations with Other Women in this one by creating a landscape of constantly moving split screens and inlays. Also, Hindi weddings seem to gush incredible colors. Between their dresses and decorations, the trailer is bright and vibrant.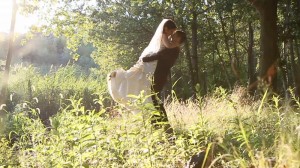 10. Monica & Jonathan – Edited by Evan:
Monica and Jonathan's wedding venue allowed for some amazing footage. The couple got married at the Granite Links Golf Club, and the bride and groom posed not only in a ruin near the course, but also on a hill that opens up to a distant view of the Boston skyline. The beautiful slider shots and in-camera slow motion gave us a leg up on this trailer, but the song called for more than applying our trademarked style, but inventing intriguing ways to open the piece and segue from scene to scene.
We're excited to have made Weddingwire's Rated for 2011! Check out the link below to read reviews from many satisfied brides. We're excited about the work we do for our clients. Every couple deserves the best possible product we can create and we're so happy our clients love our work!
http://www.weddingwire.com/biz/mcelroy-weddings-burlington/a0c02b5a3c0ffe57.html